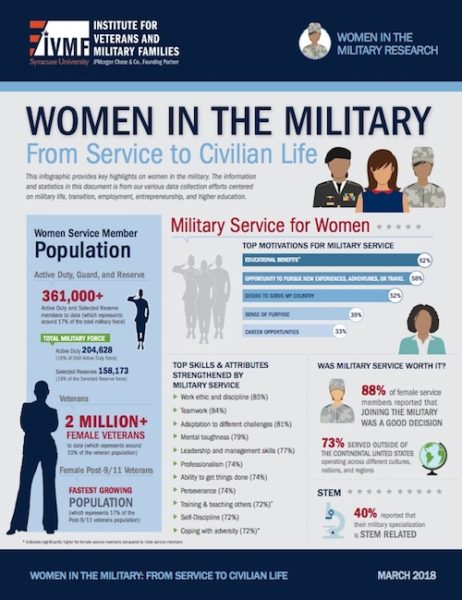 The Institute for Veterans and Military Families' (IVMF) "Women in the Military: From Service to Civilian Life" infographic provides key highlights on women in service along with invaluable data on women veterans.
The information and statistics in the document are taken from various data collection efforts by the IVMF centered on military life, transition, employment, entrepreneurship, and higher education. This data collection includes "Missing Perspectives," an ambitious research program, supported by a Google Global Impact Award, aimed at cultivating a deeper understanding of the social, economic, and wellness concerns of post-9/11 transitioning service members and veterans, and particularly the role of higher education in the transition experience. INSCT Director of Research Corri Zoli collaborated with IVMF and other researchers on both the "Missing Perspectives" and "Women in the Military" efforts.
On April 26, 2018, the "Women in the Military" infographic and research was the topic of conversation for the Transition Researcher's Forum, a group of military servicemembers, veterans, medical professionals, researchers, and others convened monthly by the US Department of Defense's Transition to Veterans Program Office. Zoli and IVMF's Rosalinda Maury presented the research during this teleconference.
"Women in the Military" Data highlights include:
Population

There are over 2 million female veterans.

Female post-9/11 veterans are one of the fastest growing population.

They represent 17% of the post-9/11 veterans' population.

Military Service

Top motivations for women entering the military include educational benefits; opportunity to pursue new experiences, adventures, or travel; desire to serve country; a sense of purpose; and career opportunities.

Most Significant Transition Challenges:

Navigating VA programs, benefits, and services

Finding a job

Financial struggles

Depression

Employment

Female veterans earn less than male veterans.
Download Women in the Military: From Service to Civilian Life infographic