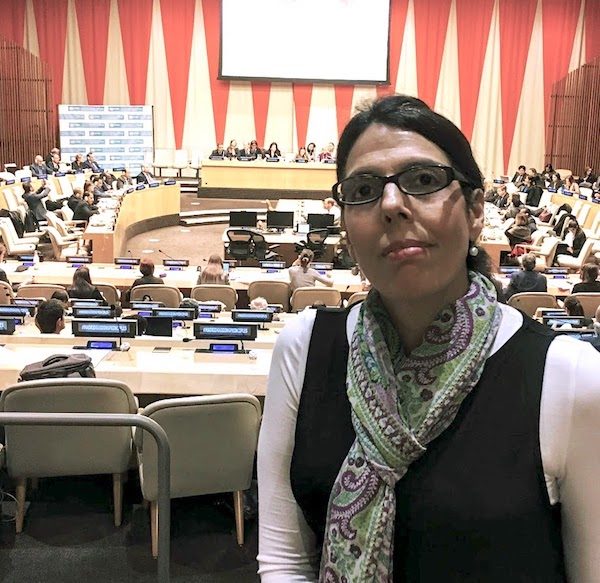 INSCT Director of Research Corri Zoli has been invited to attend a special meeting of the United Nations Security Council Counter-Terrorism Committee on Dec. 13, 2018, in the Economic and Social Council Chamber, UN Headquarters, New York City. The meeting will discuss "Security Council Resolution 2396 (2017): A Review of the Madrid Principles," a document that provides guidance to member states on stemming the flow of Foreign Terrorist Fighters (FTFs) across national borders, while staying compliant with human rights laws and norms.
In particular, explains UN Security Council Counter-Terrorism Committee Chair Gustavo Meza-Cuadra in his letter of invitation, the special meeting will tackle the issue of FTFs "in light of the evolving threat posed by foreign terrorist fighters, particularly FTF returnees and relocators and their family members." The review of the Madrid Principles also will examine gaps that may hinder states' abilities to detect, interdict, prosecute, rehabilitate, and reintegrate FTF returnees and their families, as well as identify good practices.
Among the working sessions will be those on "border security and information-sharing"; "global research perspectives on cross-cutting trends"; "countering incitement, recruitment, and violent extremism"; and "judicial measures, international cooperation, and prosecution, rehabilitation, and reintegration strategies." Invited discussants include Edmund Fitton-Brown of the Analytical and Sanctions Monitoring Team of the ISIL and Al-Qaida Sanctions Committee; Elisabeth Neugebauer, Deputy Special Representative, International Criminal Police Organization; and Tanya Mehra, International Centre for Counterterrorism, The Hague.
The Madrid Principles were developed from a July 2015 special meeting hosted by the Government of Spain and co-organized by the UN Counter-Terrorism Committee Executive Directorate (CTED), with which INSCT collaborates on counterterrorism prevention. This Madrid meeting was attended by member states from every region of the world, as well as representatives of international and regional organizations, universities, and civil society groups. Discussions and technical sessions identified 35 guiding principles that were subsequently adopted by the Security Council and offered as a practical tool for use by member states in their efforts to combat terrorism.