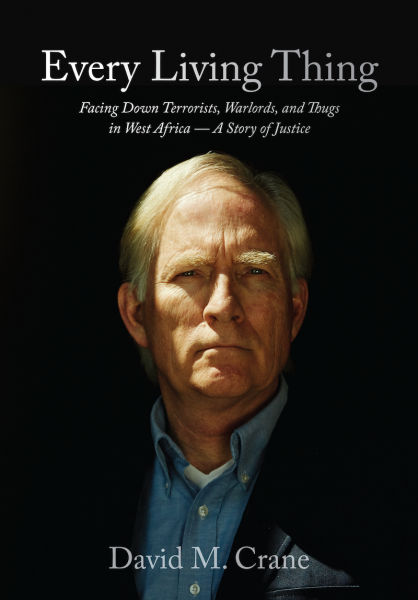 David M. Crane L'80, Syracuse University College of Law Distinguished Scholar in Residence, has published a memoir of his time as Chief Prosecutor of the Special Court of Sierra Leone (SCSL). Every Living Thing: Facing Down Terrorists, Warlords, and Thugs in West Africa—A Story of Justice is drawn from Crane's personal journals and is the first ever detailed account written by a chief prosecutor of an international war crimes tribunal.
Appointed by then-United Nations Secretary-General Kofi Annan, from 2001 to 2005, Crane—the first American since Justice Robert Jackson at Nuremberg in 1945 to be named the Chief Prosecutor of an international war crimes tribunal—worked with a team of intrepid investigators to unravel a complicated international legal puzzle. In doing so, he became the only prosecutor in the modern era to take down a sitting head of state for war crimes and crimes against humanity.
Set in the ravaged West African country of Sierra Leone, Every Living Thing shows how multiple countries were devastated by an international criminal enterprise led by presidents Muammar Gadhafi of Libya, Charles Taylor of Liberia, and Blasé Compare of Burkina Faso, with an assist from a vast network of terrorists—including Al Qaeda—vying for the control of diamonds.
Following the creation of Special Court for Sierra Leone in 2002, a small band of lawyers, investigators, and paralegals changed the face of international criminal law with their innovative plan to effectively and efficiently deliver justice for the tens of thousands of victims, most of them women and children. Among those Crane indicted was Taylor, the first sitting African head of state to be held accountable in this way. Taylor was found guilty in April 2012 of all 11 charges levied by the SCSL, and he was sentenced to 50 years in prison.
Writes Zeid Ra'ad Al Hussein, UN High Commissioner for Human Rights, "In Sierra Leone, David Crane masterfully built up a fully-fledged court, investigating and prosecuting some of the worst cases of international crimes and many of the most notorious war criminals of our era. He brought with him a deep commitment to justice, and genuine empathy for a country and people who had endured unbearable atrocities. The memoirs of this admirable and learned public servant will undoubtedly convey important lessons on how—and why—we must strive to deliver justice for all victims, even in the most challenging circumstances."