By Ryan Suto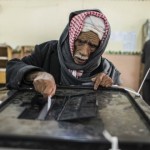 (First published by Policy Mic) The 10-person expert committee charged with making recommendations for a new or revised Egyptian constitution finished its task this week. The draft constitution will now head to a larger, 50-person committee for further review or changes before being sent to be voted on by the Egyptian people. While other recommended changes, such as those regarding gender equality, application of sharia, and the nature of political parties, get more attention, the design of the legislature will be the focus of this article. Despite the committee being composed of law professors and judges, the proposed new structure is not only remarkably simplistic, it is unimaginative. The recommended changes are also ill-suited for the realities of Egypt, and if they are retained by the larger committee and affirmed by the people, they could lead to long-term trouble for the country's political landscape.
The unicameral, majoritarian structure of the legislature lacks imagination. It is simply the oldest and perhaps least democratic design the committee could have selected. By "least democratic," I mean it will likely seat politicians in proportions that are not reflective of the will of the people. As Zaid al-Ali has written before, there will likely be no legal revolution in Egyptian elections or legislative structures.
There are two main problems with the selected majoritarian system: manipulation and representation. First, a geography-dependent system can easily fall victim to partisan gerrymandering. Outside the U.S. context, gerrymandering was heavily used in South Africa before 1994. Next, representation is often skewed in most majoritarian elections. Of particular concern in Egypt must be the Christian minority. With only roughly 10% of the population, Christians will be hard-pressed to get elected in any districts where they are not a plurality of the population, as garnering 10% of the vote in a majoritarian district awards a candidate zero power. In a proportional system, however, 10% of the vote would gain a party 10% of the power, generally.
Further, experience shows that most majoritarian systems structurally disadvantage female representation — an oversight Egypt cannot afford. This system will give power only to those who can garner a majority of support in each district, which risks the disenfranchisement of the many smaller political factions which exist in Egypt. I have recommended before that the committee find a more inclusive political structure for such a divided society …
To read the entire article, click here.

Ryan Suto is a 2013 graduate of the SU College of Law and Maxwell School of Citizenship and Public Affairs and a graduate of INSCT's Certificate of Advanced Study in Postconflict Studies program.