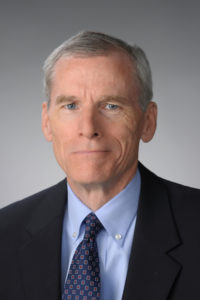 The National Geospatial-Intelligence Agency (NGA) inducted the Geospatial Intelligence Hall of Fame Class of 2017 during a ceremony at the agency's headquarters in Springfield, VA, Oct. 3, 2017.
Among the inductees was INSCT Deputy Director Vice Adm. Robert Murrett (Ret.), Professor of Practice, Public Administration and International Affairs, SU Maxwell School of Citizenship and Public Affairs. A former NGA director, Murrett was cited for having pushed to get more analysts and support staff into theater during the wars in Iraq and Afghanistan, which deployed highly-trained geospatial intelligence analysts to combat zones to support war fighters.
"Murrett also ensured NGA provided a common operating picture in Haiti following the earthquake and tracked the Deepwater Horizon oil spill in the Gulf of Mexico. He oversaw the construction of NGA Campus East, which consolidated the agency's East Coast operations into a central location," according to the NGA press release.
Murrett's tenure as Director of NGA was the culmination of a distinguished career as a US Navy intelligence officer. Among his other appointments, Murrett was Commander of Atlantic Intelligence Command; Director for Intelligence, US Joint Forces Command; Vice Chair Director for Intelligence, Joint Staff; and Director of Naval Intelligence.
"[The] induction into our Hall of Fame is the absolute pinnacle of achievement and recognition for anyone who has ever served in a part of the geospatial intelligence enterprise," says NGA Director Robert Cardillo. "The 65 phenomenal names inscribed in our Hall of Fame before today each represented pioneering spirits and hard work. They persisted and reached the pinnacle of our profession, not for themselves, but for the United States and our allies."
https://www.nga.mil/MediaRoom/PressReleases/Pages/2017-Geospatial-Intelligence-Hall-of-Fame-inducts-six-former-leaders,-geospatial-pioneers.aspx