[infobox color="orange"]
DAVID EVERETT POSTCONFLICT RECONSTRUCTION SPEAKER SERIES
WHAT: "Problem: World Disorder/Needed: Guiding Principles for Stabilization and Reconstruction"
WHO: Beth Cole, Director, Office of Civil-Military Cooperation, US Agency for International Development
WHEN: Oct. 30, 2014 | Noon
WHERE: Eggers 060 (Global Collaboratory)

[/infobox]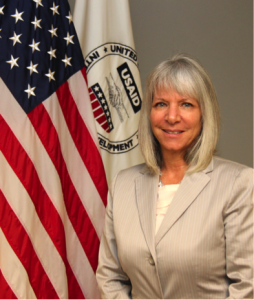 Beth Cole was appointed as the Director of the Office of Civil-Military Cooperation at the US Agency for International Development (USAID) by President Barack Obama in 2012.  In this capacity, she is responsible for managing the relationship between USAID and the US Department of Defense. Cole directs a 47-member staff of Senior Development Advisors posted to the five geographic combatant commands, Special Operations Command, and the Pentagon, as well as military liaisons posted to USAID from the Commands and the Services and a civil and foreign service planning and support staff.
Cole comes to USAID with more than 30 years of experience in the government and non-governmental sector working on stabilization and peacekeeping operations, arms control, non-proliferation, and civil-military relations. For eight years, she held senior positions at the US Institute of Peace (USIP), including Dean of Institutional Affairs in USIP's Academy, Director of Intergovermental Affairs, and a Senior Program Officer in the former Peace and Stability Operations Division.
Cole chaired the USIP-hosted Working Group on Civil-Military Relations in Non-Permissive Environments, the only regular forum for the US armed forces, foreign affairs agencies, and non-governmental humanitarian assistance organizations. She was lead writer of the first interagency doctrine for stabilization operations—Guiding Principles for Stabilization and Reconstruction—developed with the US Army. She also served on the Civil-Military Cooperation Working Group of the Advisory Committee on Voluntary Foreign Assistance for USAID. In addition, she is an adjunct professor at the Elliot School of International Affairs at George Washington University.
Among earlier posts, Cole was director of the Congressional Roundtable on Post-Cold War Relations in the US Congress and a senior fellow at George Mason University's Program on Peacekeeping Policy. She is the co-author of RAND's The Beginner's Guide to Nation-Building (2007), and she co-authored a number of USIP Special Reports, including "Transitional Governance: From Bullets to Ballots" (2006) and "Building Civilian Capacity for US Stability Operations: The Rule of Law Component" (2004). Cole also has served in positions at the Congressional Research Service and the US Department of State, working on arms control treaty issues, and she has served as Executive Director of several non-governmental organizations, including the Center for Arms Control and Non-Proliferation and the Peace Through Law Education Fund.