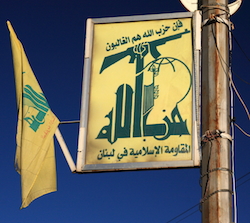 By Peter Bergen & Emily Schneider
(Re-published from CNN International, Sept. 22, 2014) Over this past weekend, Hezbollah, the militant Shiite group that is headquartered in Lebanon, reportedly used drones to bomb a building used by the al Qaeda affiliated Nusra Front, along Lebanon's border with Syria.
The armed drones, combined with fire from Hezbollah ground troops, killed 23 Nusra Front militants and wounded some 10 others, according to a report by an Iranian news agency.
Iran is the key sponsor for Hezbollah and has plausibly claimed for the past several years to have succeeded in manufacturing armed drones.
Hezbollah's use of drones marks a milestone for terrorist groups worldwide: It would be the first time a group other than a nation state used armed drones successfully to carry out an attack, marking an important step towards closing the gap between the technological capabilities of countries such as the United States and militant groups such as Hezbollah.
After all, it was only in the months immediately after 9/11 that the United States mastered the technology of arming drones and began to use them in combat.
Now, 13 years later a militant organization appears to have reached the same milestone.
Previously, drones were known to have been used by militant groups only for surveillance purposes. Last month, ISIS uploaded a video to YouTube that showed aerial views of Syrian Army Military Base 93 in Raqqa province in northern Syria that had purportedly been shot by a drone.
Libyan opposition fighters targeting Libyan dictator Moammar Gadhafi used sophisticated drones for surveillance in the summer of 2011 …
To read the full article, click here.
Emily Schneider (LAW '13) is a Research Associate for the International Security at New America and a Research Assistant for INSCT.