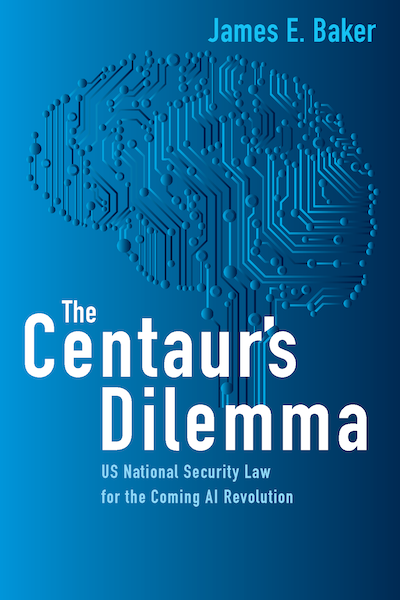 Of all the areas that may benefit from artificial intelligence or be damaged by it, national security might be the most important. "Security risk will come first, as states—and perhaps other actors—race to develop and defend against the advantages of AI-enabled intelligence, weapons, and decision-making," writes the Hon. James E. Baker, Director of the Syracuse University Institute for Security Policy and Law (SPL), in The Centaur's Dilemma: National Security Law for the Coming AI Revolution, newly published by the Brookings Institution Press (Dec. 1, 2020).
Written in plain English, The Centaur's Dilemma is written to help guide policymakers, lawyers, and technology experts as they deal with the legal, ethical, and practical questions that will arise when using AI to plan and carry out the actions required for the nation's defense.
Baker, an expert in national security law and a professor at the Syracuse University College of Law and the Maxwell School of Citizenship and Public Affairs, writes that having an AI advantage comes with risk: "Operators may not understand the technology they are using, including its limitations, its strengths, or its faults. They may not rely on it enough or they may rely on it too much."
The US Department of Defense has sought to mitigate risk by requiring "a human in the loop." "The Defense Department calls this a centaur model of employment," writes Baker, "but instead of being part-human and part-horse, this centaur is part-human and part-machine, the machine augmenting human capacity with the human seeking to understand and control the machine's capabilities."
Adopting a realistic approach in assessing how the law can be used, or even misused, to regulate this new technology, Baker covers—among other topics—national security process, constitutional law, the law of armed conflict, arms control, and academic and corporate ethics. Using his own background as Chief Judge of the US Court of Appeals for the Armed Forces, Baker examines potential points of contention and litigation in an area where the law is still evolving and might not yet provide clear and certain answers.
Reviewing the book, Avril Haines—an SPL Distinguished Fellow who was recently nominated by President-Elect Joseph R. Biden Jr. L'68 to the role of Director of National Intelligence—writes that "The Centaur's Dilemma is a must-read for anyone interested in national security and technology. James Baker provides an extraordinary and timely roadmap for how to think about the intersection of the law and artificial intelligence. What is exceptional about this work is his focus on how to use the law as a tool for making wiser and more strategic decisions regarding the use of AI in national security."