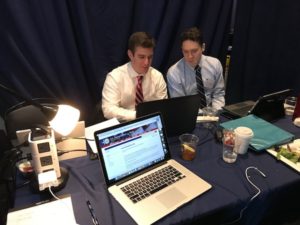 From March 1-3, 2018, a team of College of Law and Maxwell School national security students—coached by Institute for National Security and Counterterrorism (INSCT) Director William C. Banks and Maxwell School Professor Sean O'Keefe—took part in the 2018 National Security Crisis Law Simulation at Georgetown Law. This year, the students competed not only with other national security law students from the US—including from Cornell, Fordham, New York University, and the Judge Advocate General's Legal Center and School—but also students from six Canadian universities, the Australian National University, and the UK.
The INSCT team consisted of third-year J.D./M.P.A. students Conor Sullivan and Ryan White; second-year J.D./M.P.A. student Kristina Cervi; third-year M.A.I.R/M.S.P.R candidate Stephen Brickey; and third-year J.D. student Elizabeth Snyder. The students played law and policy roles within the US Department of State (DOS), specifically Secretary of State (Brickey); Legal Advisor (Snyder); Under Secretary for Political Affairs (Sullivan); Coordinator of the Office for Counterterrorism (White); and a DOS staff member (Cervi).
As with previous simulations, organizers wrote a cascade of interconnected and fast-evolving national and international crisis scenarios that called on student teams in the national security, homeland security, defense, intelligence, foreign service, and financial service sectors to work alone and together.
The teams were called upon to save the world from a North Korean ransomware attack on Jersey, UK; a sudden, 2008-style financial crisis in New York City; a threat against British politicians from a resurgent Irish Republican Army; a Cold War-style military stand-off and related cyberattacks in the Arctic; the return home to Canada and Australia of foreign terrorist fighters; and more besides.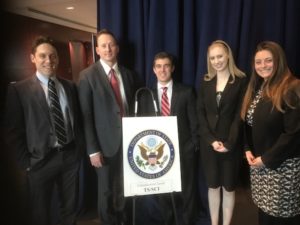 "This was the third national security invitational, and Syracuse has participated in each of them," says Banks. "I think that it's fair to say that our students performed superbly, more than holding their own against the best from other schools. Their role was in the middle of several intense crises, and they had to gather law and facts, make decisions quickly, persuade others of their positions, and communicate them succinctly and clearly."
At the end of the event, the teams were reviewed by a distinguished panel of judges, including former Director of National Intelligence James R. Clapper Jr. "The feedback was laudatory and very valuable for the students," Banks observes. "I could not be more proud of the Syracuse group. They demonstrated once again the value of our interdisciplinary model and of the joint Maxwell School/College of Law INSCT program."