INSCT Event
WHAT: Israel's Supreme Court Counterterrorism Jurisprudence: Mitigating Harm, But at What Cost?
WHERE: 360 Dineen Hall (Feinberg Lecture Hall)
WHEN: April 17, 2017 | 11:50 a.m.
Part of the Carol Becker Middle East Security Speaker Series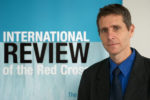 Professor Yuval Shany is Hersch Lauterpacht Chair in Public International Law, Hebrew University. He also serves currently as a board member in the International Law Forum at the Hebrew University, a director in the Project on International Courts and Tribunals (PICT), and a senior research fellow at the Israel Democracy Institute.