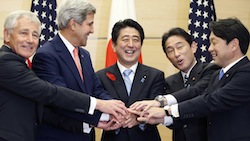 By Robert B. Murrett
Many of us have been distracted this month by ongoing federal budget discussions in Washington, DC. However, while all this has been unfolding, the US and Japan took a significant, strategic step forward on Oct. 3, 2013, signing an updated security agreement in Tokyo. Both US Secretary of State John Kerry and Secretary of Defense Chuck Hagel traveled to Japan for the event, meeting with their counterparts and attending a signing ceremony held under the aegis of Japanese Prime Minister Shinzo Abe.
The agreement was important for several reasons, ranging from overall strategic posture to a series of specific, technical areas of cooperation. Some of the key points follow:
Japan is the Strategic Lynchpin in Northeast Asia
This position was clearly articulated in the agreement, and it has growing significance as we "rebalance" to the Asia-Pacific region. This position also bears restating in light of our bilateral efforts to deal with "coercive and destabilizing behaviors," across a range of security and non- security related missions in Asia.
Other US allies are part of the equation. The talks in Tokyo, and the resulting strategic agreement, stressed multilateral work with key partners, particularly Australia and the Republic of Korea. These are the most important players, but there are significant roles for the Philippines, New Zealand, Taiwan, Thailand, Indonesia, Singapore, and Vietnam, among others.  he role of Taiwan and these nations is becoming more universally accepted in Japan as time goes on.
It's About the Region
Our strategic linkage with Japan is often characterized in the context of China. However, the view from Tokyo also reflects high concern with North Korea and Russia. In addition, with the steady focus on territorial disputes between Japan and China, it's worth noting that the dispute with between Tokyo and Moscow on the Kurile islands is still very real.
The Alliance Extends Well Beyond East Asia
The agreement emphasizes the "global nature of the US-Japan Alliance," and addresses transnational issues such as counterterrorism, counter-piracy, peacekeeping, and humanitarian assistance/disaster relief.  Deployments of Japanese forces have reflected this expanded role over the past decade, including military operations off the Horn of Africa, and even in Iraq.
Japan—& Other Asian Nations—Want Sustained US Engagement
President Barack Obama's (understandable) last-minute cancellation of his visit to this week's Asia-Pacific economic summit gave Asian leaders a first-hand taste of reduced high-level influence. The clear message from nearly all of them was that they didn't like it (although John Kerry did very well as a stand-in). In short, the demand signal for an active US role in balancing expanding Chinese influence, and as an honest broker across regional disputes, remains as strong as ever.
As the US and Japan continue to work out additional details of the strategic agreement (due out by the end of next year), there is additional opportunity to advance security cooperation between the two nations, with positive effect throughout East Asia. The agreement reiterated that "the US-Japan Alliance is the cornerstone of peace and security in the region."  This statement will provide a strong basis, as we work closely with Tokyo, to advance the largely peaceful and prosperous Asian strategic environment well into the future.