Details
Date: Oct. 5, 2015
Time: Noon
Location: Strasser Legacy Room (220 Eggers)
Part of the Carol Becker Middle East Security Speaker Series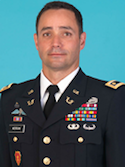 Maj. John J. (JJ) Merriam is the  former Associate Director for Law of Land Warfare, Stockton Center for the Study of International Law, US Naval War College.
Merriam joined the faculty of the Stockton Center for International Law as Associate Director for Land Warfare and Associate Professor in June 2014 after graduating from the Naval War College with highest distinction (first in class). Before coming to the War College, Major Merriam served in a variety of international and operational law positions including as a Special Forces Group Judge Advocate and a Brigade Combat Team Judge Advocate.
Merriam has served in numerous overseas assignments including Germany, Iraq, and Afghanistan. His overseas operational assignments include Deputy Staff Judge Advocate for Joint Special Operations Task Force-Odyssey Dawn during operations in Libya and forward-deployment to Afghanistan as Group Judge Advocate for 10th Special Forces Group (Airborne) and to Mosul, Iraq, as Brigade Judge Advocate, 1st Brigade (Stryker), 25th Infantry Division (Light).