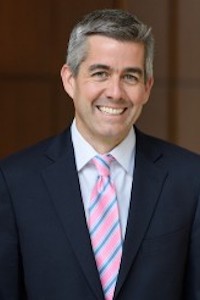 An expert in the intersection of national security and climate change, Mark P. Nevitt has joined the Syracuse University College of Law faculty as Associate Professor. Beginning in fall 2020, Nevitt will teach national security law, climate change law and policy, environmental law, and constitutional law. He will be affiliated with the Syracuse University Institute for Security Policy and Law (SPL).
Before joining Syracuse, Nevitt served as the Distinguished Professor of Leadership and Law at the US Naval Academy in Annapolis, MD. From 2017 to 2019 Nevitt served as the Sharswood Fellow, Lecturer-in-Law at the University of Pennsylvania Law School, where he taught climate change law and policy, as well as a seminar on national security, law, and society.
Nevitt has written on climate change, environmental, and national security law in the Harvard Environmental Law Review, Washington University Law Review, Boston College Law Review, Georgia Law Review, Berkeley Journal of International Law, and Cardozo Law Review. His chapter "Environmental Law in Military Operations" was published in US Military Operations: Law, Policy, and Practice (Oxford University Press, 2016). He is a frequent contributor to New York University School of Law's influential Just Security blog and Penn Law's Regulatory Review.
Nevitt's current research focuses on climate change and its destabilizing impacts on many areas of law. "My projects address international governance gaps in addressing the 'super-wicked' problems caused by climate change, to include its existential threat to small island nations," says Nevitt. "I am also researching numerous legal issues associated with how the United States manages retreat from areas exposed to climate change, an issue which has enormous implications for environmental law and environmental justice, as well as how we conceptualize both national security and human security."
"Professor Nevitt's work across a range of national security topics—and most significantly for our age, climate change—expands the teaching and research capacity of the Institute for Security Policy and Law," says Dean Craig M. Boise. "Our students will benefit not only from his extensive research and teaching experience but also his experience with operational law, as a JAG officer and public servant. Along with SPL Director Judge Jamie Baker, I welcome Mark to Syracuse and look forward to his contributions to our strategic research initiatives."
"At SPL our mission is to inspire and to prepare the next generation of thought leaders and practitioners in the national security field," say SPL Director the Hon. James E. Baker. "Mark will help us do that by bringing to Syracuse a rare blend of practical experience and academic rigor. He also brings an important focus to one of this century's most important security and humanitarian challenges—Mark's presence immediately makes SPL a national leader in the study of climate change and national security. What is more, he is a wonderful person who will help teach and mentor Syracuse students to serve a greater good."
Before his academic career, Nevitt served as both a tactical jet aviator and a Judge Advocate General's Corps attorney in the US Navy. As an aviator, Nevitt flew more than 1,000 hours and accumulated more than 290 carrier arrested landings.
As a JAG attorney, Nevitt served in assignments with a focus on environmental, administrative, and international law. While serving as the Regional Environmental Counsel in Norfolk, VA, Nevitt tackled emerging legal and policy issues posed by the intersection of climate change and national security. Nevitt also helped provide legal advice to the US Navy's investigation into the 2016 Iranian detention of Navy sailors in Farsi Island, investigating issues of international, national security, and administrative law. His military awards include the Air Medal and Meritorious Service Medal (four awards).
Originally from Rhode Island, Nevitt received his J.D. and LL.M. (with distinction) from the Georgetown University Law Center, his Bachelor of Science in Economics from the Wharton School, University of Pennsylvania, and a National Security Diploma from the US Naval War College.
Nevitt joins a deep bench of national security thought-leaders recruited by Judge Baker. These appointments include Associate Director Tom Odell, a former litigator at Covington & Burling LLP, where his practice focused on international arbitration, arbitral award enforcement, and corporate disputes. For SPL, Odell teaches postconflict reconstruction and computer crimes, among other subjects.
SPL also has added five distinguished fellows drawn from the upper echelons of the national security and intelligence communities: Steve Bunnell (Distinguished Fellow of Homeland Security), Co-Chair, Data Security and Privacy Practice, O'Melveny & Myers LLP; Rajesh De (Cybersecurity and Data Privacy), Partner, Mayer Brown LLP; Avril D. Haines (National Security Policy and Law), Commissioner, National Commission on Military, National, and Public Service and Deputy Director, Columbia World Projects; Amy Jeffress (National Security Law and Transnational Criminal Law), Partner, Arnold & Porter; and Lala R. Qadir (Emerging Technologies), Associate, Covington & Burling LLP.