Date: Wednesday, Nov. 8, 2017
Time: Noon
Location: Feinberg Lecture Hall (Dineen 360)
WITH
William C. Banks, Director, INSCT

W. George Jameson

, Former Director, Office of Policy & Corporate Coordination, CIA*

Robert B. Murrett

, Deputy Director, INSCT

Laurie Brown Hobart

, Former Assistant General Counsel, US Intelligence Community, and Assistant Teaching Professor, SU College of Law
---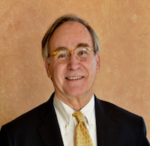 W. George Jameson is a consultant, attorney, lecturer, and author on matters relating to intelligence and national security operations, policy, and law. He founded Jameson Consulting to provide independent counsel and advice to corporate and government clients and others on matters relating to national and international security, operations and business development, risk management, mediation, and governance. Jameson also serves as an Adjunct Staff member at the RAND Corporation.
Jameson also is Chairman and President, Council on Intelligence Issues, a non-profit organization he co-founded to educate the public on intelligence and other national security issues and to provide information about legal resources to CIA and other intelligence officers who need assistance.
Jameson retired from the Central Intelligence Agency in 2009 after 33 years of Government service. Awards include the CIA Director's Award and Distinguished Career Intelligence Medal. As the CIA's first Director of the Office of Policy and Corporate Coordination, Office of the CIA Director (2006-2009), Jameson established an integrated capability to address interagency national security policy matters, and he led CIA efforts on revision of Executive Order 12333 governing intelligence.
He previously served as the Senior Counsel for Intelligence Community Affairs in the CIA's Office of General Counsel (2005-2006), advising on intelligence reform and implementation.