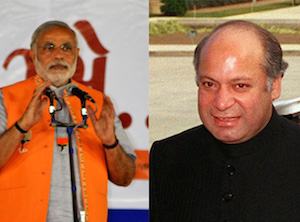 By Isaac Kfir
On May 25, 2014, Pakistan Prime Minister Nawaz Sharif accepted Narendra Modi's invitation to attend his swearing-in as prime minister of India, to be followed by a meeting between the two men on May 27. Modi's invitation and Sharif's acceptance has been touted as a masterstroke for both men, as they recognize that their respective countries and the region face enormous challenges that demand cooperation between Delhi and Islamabad.
At first glance one would not expect the two to cooperate. After all, although both are on the centre-right of the political spectrum, Sharif is regarded as a conservative when it comes to Islam and Modi is regarded as a staunch Hindu nationalist, associated with the infamous 2002 Gujarat riots during which 1,000 people, mostly Indian Muslims, died. Yet if history is any indicator, Sharif's and Modi's orientation should not prevent the two from developing a successful relationship, as Sharif had a good relationship with Atai Bihari Vajpayee, India's last prime minister with the right-wing Bharatiya Janata Party (BJP). What could help the two men in developing relations is that they both enjoy a strong political mandate and need not worry so much about coalition governments, which often tend to torpedo relations between the two countries.
The first issue of interest to the two men is how to address their countries' economic woes. India, which a few years ago was touted as the next China, has experienced an economic slowdown and an evolving crisis with its public spending. Modi has inherited a stagflating economy, with growth oscillating between 4% and 5% and with inflation at 9% and rising. Investment and growth is undermined by a large informal economy made worse by rampant corruption (between US$4 and US$12 billion has gone to corrupt politicians over the past five years).[1] For Modi, India's economic revival depends on shrinking the size of the government, reducing public sector spending, and improving governance. To achieve these goals, Modi needs to address international and regional concerns that he is an Indian (Hindu) nationalist, whose critics accuse of authoritarian tendencies and sectarian bias, which may discourage foreign investment should they suspect that India is on the precipice of further sectarian riots. This perception is one reason why the BJP's election campaign centered on Modi's management of Gujarat State, where as chief minister he implemented several pro-business policies that helped the state buck the Indian economic trend and experience consistent growth.
Sharif's decision to attend the inauguration is a little clearer as he has been a long-time advocate for improved relations, leading his brother Shahbaz Sharif, the chief minister of Punjab, Pakistan's key state, to accuse the military of blocking attempts to improve relations between the two countries.[2] Undoubtedly, the past two years have been tough for Sharif, as he tries to fulfill his various campaign promises. However, when it comes to the economy, his government has won some accolades—although maybe not from ordinary Pakistanis who continue to toil under an iniquitous system—for reducing inflation and improving the country's foreign currency reserves, leading the International Monetary Fund to continue with its US$6.7 billion bailout.[3] Nonetheless, Sharif's recognizes that Pakistan's economic development would benefit enormously by having more access to India's vast economy, which is why he supports granting India "most favored nation" status in the hope of encouraging more trade between two countries that have so much in common.
A second issue of prime importance to both India and Pakistan is Afghanistan, especially once the US completes its withdrawal. A nightmare scenario that all would like to avoid is seeing Afghanistan turn into a key battlefield between the Indian and Pakistani security services, which would greatly threaten international peace and security. Clearly, Indian presence and involvement in Afghan affairs has steadily increased, culminating with an announcement that India would buy Russian arms for the Afghan National Army. This type of activity, which concerns Pakistan, is all part of India's strategy of maintaining influence in Afghanistan to prevent the return of the Taliban, while India recognizes that it cannot send ground forces into the country. For Islamabad, Indian presence and influence is an obvious concern, especially due to the acerbic relations between Kabul and Islamabad, which has led to not only a sharp exchange of words but also casualties. Nonetheless, Modi and Sharif recognize that they must come to some sort of an understanding in respect to Afghanistan, as once the US completes its withdrawal, an unstable Afghanistan poses a threat to both countries—neither wants to see a return of a Taliban-led regime or a resurgent Al-Qaeda. The challenge is how to control the security services of both countries, whose agendas may not necessarily be in accordance with what the civilian polity seeks or wants.
A third issue likely to be central to Modi and Sharif is the US, with whom both have a turbulent relationship, Modi because in 2005 the US Department of State not only refused him a diplomatic visa but revoked his existing tourist/business visa because of the 2002 Gujarat riots, a ban that has remained in force. On the other hand, Sharif, like other Pakistani leaders, has endured chastisements coupled with incessant demands to do more to "fix" Pakistan's problem. These demands have made him weary of the US and its condescending manner, which explains how unpopular the US is in Pakistan. This is not to say that these men do not see the value of having good relations with America. They do, whether for defense purposes or simple economic reasons, and neither can afford to alienate the world's largest economy. Nevertheless, it is possible that both men have recognized that improved relations between India and Pakistan will permit them to be more assertive in their interaction with the US, while remaining somewhat mistrustful of it.
In terms of Indian politics, Modi's rise and the BJP's success in the 2014 election has been described a game changer. The BJP is the first party in three decades to have a clear majority in India's lower house. Modi's victory, however, also may change South Asia, because with Sharif at Pakistan's helm, India may find a willing partner to help enhance relations between two old foes, heralding a new dawn for South Asia.
---
[1] "Modi's Mission," The Economist, May 24, 2014. http://www.economist.com/news/briefing/21602709-new-prime-minister-has-good-chance-resuscitating-countrys-underperforming
[2] Jon Boone and Jason Burke, "Military blocking Pakistan-India trade deal, says Shahbaz Sharif," The Guardian, Feb. 14, 2014. http://www.theguardian.com/world/2014/feb/13/military-block-pakistan-india-trade-deal-sharif
[3] "Pakistan economy improving reform on track: IMF," Dawn.com, Feb 9, 2014. http://www.dawn.com/news/1085925