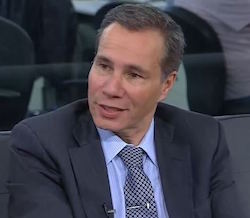 By Tara Helfman
(Re-published from Commentary, Jan. 20, 2015) On Sunday night [Jan. 18, 2015], Alberto Nisman, the special prosecutor charged with investigating the 1994 bombing of a Jewish Community Center in Buenos Aires, was found dead in his apartment. A gun was found by his side. The initial report of the Ministry of Security suggests that it was a suicide but Argentines are not buying it. Thousands took to the streets of Buenos Aires, Mendoza, Salta, Córdoba, and Santa Fe yesterday, bearing signs that read "Yo soy Nisman"—"I am Nisman."
[pullquoteright]Nisman had been building the case against Iran and Hezbollah for their involvement in the AMIA bombing since 2005."[/pullquoteright]"Basta de mentiras," some of the protestors demanded, "Enough with the lies."
Nisman's death came only hours before he was scheduled to testify before a commission of the Argentine Congress on an alleged secret agreement between Iran and the Kirchner administration trading impunity for oil. Nisman was prepared to testify that the deal, struck between the two governments in 2013, centered on the July 1994 bombing of the Asociación Mutual Israelita Argentina (AMIA). The attack killed 85 and injured 300 more. It was the most lethal incident in a month of attacks that included the still-unsolved downing of a Panamanian plane carrying 12 Jews among others, the bombing of the Israeli embassy in London, and the bombing of the London offices of the United Jewish Israel Appeal.
Nisman had been building the case against Iran and Hezbollah for their involvement in the AMIA bombing since 2005. In May 2013, he issued a lengthy indictment charging one Lebanese Hezbollah operative and seven Iranians, including former President Akbar Rafsanjani, with involvement in the attack. One of the Iranians indicted, Mohsen Rezaei, is currently a high official in the Iranian government, while others have served it in diplomatic and military capacities. The indictment came only months after the Kirchner government entered a controversial agreement with the Iranian government agreeing to establish a "Truth Commission" to examine the AMIA bombing.
At the time, President Cristina Kirchner hailed the agreement as a historic one that "guarantees the right to due process of law, a fundamental principle of international criminal law." It would have allowed five judges (none Argentine or Iranian) to question those allegedly involved in the bombing, offering effective immunity for the perpetrators. Last year, an Argentine federal court barred the implementation of the agreement and ordered the courts to reinstate all extradition orders against the suspects in the bombing.
This is why Argentines are taking to the streets demanding, "Enough with the lies" …
To read the full post, click here. 
INSCT Faculty Member Tara Helfman is an Associate Professor in the Syracuse University College of Law, where she is an expert in constitutional law, international law, and the Law of the Sea.