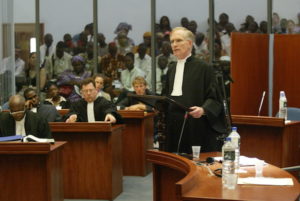 After teaching as a Professor of Practice at his alma mater since 2006, David M. Crane L'80 has announced that he will retire from the College of Law in August 2018. Crane taught international criminal law, international humanitarian law, military law, and national security law. As a faculty member of the Institute for National Security and Counterterrorism, he developed interdisciplinary projects and courses with colleagues from across the University, including, most recently, a groundbreaking course on media and atrocities with Professor Ken Harper of the S.I. Newhouse School of Public Communications.
At the College, Crane founded Impunity Watch, an online student-run law review and public service blog, and the Syrian Accountability Project (SAP), an internationally recognized effort among students, activists, journalists, and non-governmental organizations to document war crimes and crimes against humanity during the Syrian Civil War.
"It has been a pleasure teaching at my alma mater," says Crane. "The hundreds—perhaps thousands—of students I have taught and placed in jobs or at other universities has inspired me and excited me in ways I never imagined. I hope I gave them a spark to go out in the world and make a difference."
"For the past 12 years, David Crane has taught many hundreds of students about the paramount importance of the rule of law, the scourge of impunity, and that ordinary human beings—especially those who are the victims of atrocities visited upon them by the powerful—must always be the focus of justice," says College of Law Dean Craig M. Boise. "I know that our students have been honored to work for Impunity Watch and the Syrian Accountability Project and that they were often spellbound in the classroom by David's stories from his days in the military and working for the Special Court for Sierra Leone."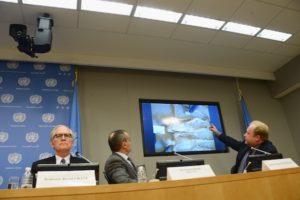 Before Crane joined the College of Law faculty, from 2002 to 2005, he was the founding Chief Prosecutor of the Special Court for Sierra Leone (SCSL), appointed to that position by Secretary-General of the United Nations Kofi Annan. Serving as a UN Undersecretary-General, Crane's mandate was to prosecute those who bore the greatest responsibility for war crimes and crimes against humanity committed during Sierra Leone's civil war in the 1990s. Among those he indicted was Liberian President Charles Taylor, the first sitting African head of state to be held accountable in this way. Taylor was found guilty in April 2012 of all 11 charges levied by the SCSL, and he was sentenced to 50 years in prison.
Crane's UN appointment was preceded by more than 30 years in the US federal government. Crane held numerous positions, including Director of the Office of Intelligence Review; Assistant General Counsel of the Defense Intelligence Agency; an appointment to the US Senior Executive Service; and Waldemar A. Solf Professor of International Law at the US Army Judge Advocate General's School. Among Crane's most lasting legacies are the desk books he edited for publication by the JAG School: The Law of War, Operational Law, Counterintelligence Coordination, Legal Aspects of Future War, and Cases and Materials on Intelligence Law.
During his College of Law appointment, Crane continued to work toward justice for victims humanitarian law violations—most notably in Syria—often with the help of his students. In 2014, Crane co-authored the "Caesar Report" that detailed the systematic killing of thousands of people in Syria and testified about the report at the UN Security Council. Crane also has testified to the US House of Representatives Committee on Foreign Affairs and its Subcommittee on Africa, Global Health, Global Human Rights, and International Organizations on the Syria crisis and related human security and humanitarian issues. In 2016, Crane helped to draft a UN resolution "to establish a special team to 'collect, consolidate, preserve and analyze evidence' as well as to prepare cases on war crimes and human rights abuses committed during the conflict in Syria." Subsequently, he assisted the UN in setting up the independent justice mechanism mandated by the resolution.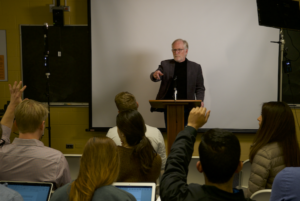 For the past six years, College of Law and Maxwell School of Citizenship and Public Affairs students have assisted Crane's efforts toward justice for the people of Syria. In particular, the student-led Syrian Accountability Project has documented humanitarian crimes committed by all sides during the Syrian Civil War. They have catalogued that information—relative to applicable bodies of international law, such as the Geneva Conventions, the Rome Statute, and Syrian Penal Law—in an extensive conflict narrative, crime base matrix, and in several white papers. The aim of SAP's work is to guide a future prosecution team toward the administration of postconflict justice for Syrians. In 2016, the Syrian Accountability Project was praised by Rep. Chris Smith (R-NJ) on the floor of the US House of Representatives for its work gathering evidence of atrocities.
Crane's other recent public service work includes chairing the board of the Robert H. Jackson Center and the creation of the center's annual International Humanitarian Law Dialogs; the founding of I Am Syria, a non-profit media and educational campaign that seeks to educate the world about the Syrian conflict; an appointed to the Sri Lankan Advisory Council to the Presidential Commission on Missing Persons; membership on the US Institute of Peace Fragility Study Group; and, in 2017, work on behalf of Qatar decrying the embargo of that nation by other Middle East states. Also in 2017, Crane joined other distinguished legal and public policy experts on the North Carolina Commission of Inquiry on Torture, a non-profit, non-governmental organization created to address the state's role in CIA torture and rendition during the War on Terror.
Crane has received numerous accolades and awards for his service to international law and human rights, including honorary degrees from his alma mater Ohio University and from Case Western Reserve University. Crane has been awarded a Medal of Merit from Ohio University, a Distinguished Service Award from Syracuse University College of Law, and a George Arents Pioneer Medal from Syracuse University. Among Crane's other awards are the Intelligence Community Gold Seal Medallion, the US Department of Defense Distinguished Civilian Service Medal, a Legion of Merit award from the US Armed Forces, and an Eclipse Award from the Center for Victims of Torture. Crane was made an honorary Paramount Chief by the Civil Society Organizations of Sierra Leone, and in 2006, he was given a key to the City of Highland Park, IL, where he attended high school.
Crane recently published The Founders, the complex and compelling story of his and his three fellow international prosecutors' efforts to set up the world's first international tribunals and special courts.
Crane's experience investigating and prosecuting some of the world's most appalling crimes and his expertise in humanitarian law has led to many media inquiries over the years by the world's foremost news outlets. For instance, he has appeared as an expert on NBC's The Wanted, a 2009 six-part series focusing on international justice; on the BBC's documentary Mad Dog: Gadaffi's Secret World in 2014; and in a lengthy 2016 profile in Der Spiegel in the wake of the release of the SAP white paper "Through a Window Darkly."
The day after the release of the "Caesar Report" in 2014—first announced by The Guardian—worldwide media rushed to seek comment from Crane. "In the eyes of the media, David Crane L'80 is a wanted man," explained SU News in its coverage. "[Crane] spent much of the day on Tuesday in a small TV studio located in Newhouse. From there, he spoke to reporters around the world … In one afternoon, he completed interviews with Sky News, CBC, the BBC, Al Jazeera, NPR, The New York Times and The Wall Street Journal. That was before taking a break at 5 p.m. to teach class."