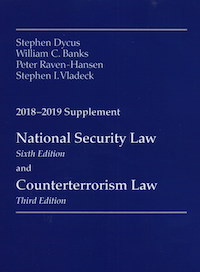 Edited by Professor Emeritus William C. Banks—along with Stephen Dycus, Peter Raven-Hansen, and Steve Vladeck—the 2018-2019 National Security Law/Counterterrorism Law Supplement (Woulters Kluwer/Aspen Casebook Series, 2018) addresses topics covered in the sixth edition of National Security Law and the third edition of Counterterrorism Law, both leading casebooks in their respective fields.
Among the new materials presented in the Supplement are those concerning national security incidents and actions taken during the first year of the President Donald J. Trump Administration. Teachers and students will find documents and legal notes addressing Washington v. Trump, Zaidan v. Trump, Wikimedia Foundation v. NSA, Carpenter v. United States, and Hernandez v. Mesa. There are also policy notes on topics such as targeted killings, military action in Syria, military activities in cyberspace, transparency in the intelligence community, access to FISC records, and national security letters. Many chapters investigate "ripped from the headlines" topics that have dominated the news from 2016 to 2018: the Trump Administration "travel bans," the Joint Comprehensive Plan of Action (aka the Iran Nuclear Deal), Russian hacks of the US power grid, the Hawaii Missile Alert, the McCain-Feinstein Amendment, and undocumented immigrants.
As the authors write in their preface, "In a field of law as dynamic as ours, we expect many important developments each year. But even we were surprised by the torrent of notable changes during the first year and a half of the Trump Administration.
"Federal courts caught up with the Trump travel bans in fast-progressing litigation that came to a head when a divided Supreme Court decided Trump v. Hawaii. Almost 40 years after the supreme court expounded the third-party doctrine to give the government access to dialed phone numbers without a warrant or even probable cause, the court refused to apply that doctrine to allow access to historical cell tower locational data in Carpenter v. United States.
"Earlier this year Congress approved a five-year extension of programmatic national security surveillance without significantly changing the scheme approved in the 2008 FISA Amendments Act. In the meantime, the continuing chaos of the Guantánamo military commissions continued to generate new case law and new issues, even as the Administration persisted in relying on them to prosecute some accused terrorists. In addition, evidence of Russian efforts to interfere in US elections, and to intrude on critical US infrastructure, presented new challenges in the evolving field of cyber security law.
"Other developments arose from continuity between administrations. Arguably building on the Obama Administration's precedent of using armed force in Libya for the protection of local civilians, the Trump Administration used armed force in Syria for the same purpose. In rejecting the nuclear deal with Iran—the Joint Comprehensive Plan of Action—the Trump Administration ironically invoked the same authority that its predecessor used to approve the plan: the putative authority of the president unilaterally to decide on non-binding political commitments to and with foreign states.
"Unabated screening and profiling at the borders continued to generate litigation and a broad range of new case law on immigration. Administration efforts to control leaks and prevent disclosure of national security information also continued. We have tried to keep up with these and many other developments without overly complicating the use of the core casebooks …"