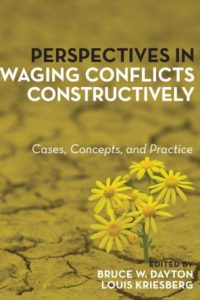 A new book co-edited by INSCT Affiliated Faculty Member Louis Kriesberg offers diverse, expert perspectives on how large-scale, seemingly intractable conflicts can be conducted with more positive benefit, minimizing their destructiveness by using "constructive conflict" diplomatic and resolution techniques.
In Perspectives in Waging Conflicts Constructively: Cases, Concepts, and Practice (edited by Bruce W. Dayton and Kriesberg), distinguished analysts and practitioners review the core ideas of the innovative "constructive conflict approach" and examine cases where conflicts have been waged with fewer destructive consequences.
An introduction presents key concepts in constructive conflict resolution, and 10 chapters offer international cases of these theories in action, including "Non-Provocative Defense in the Asia Pacific" by INSCT Deputy Director Robert Murrett. Other cases feature both global and regional examples ranging from Israel to North Korea. The book also contains recommendations for policymakers, non-governmental organizations, and citizens about how stakeholders at all levels might help avoid destructive patterns that are common in large-scale conflict while working for positive change.
Krieberg—professor emeritus of sociology and SU Maxwell School Professor Emeritus of Social Conflict Studies—also contributes the chapter "Global Contexts for Waging Conflicts Constructively." Other contributors include Patrick G. Coy, Esra Cuhadar, Martina Fischer, Galia Golan, Christopher Mitchell, Thania Paffenholz, Lee Smithey, and Steven Zunes.