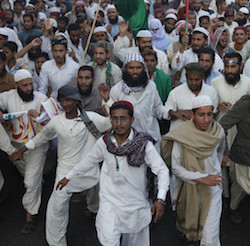 By Emily Schneider
(Re-Published from Weekly Wonk, Aug. 28, 2014) Are political protestors terrorists? Under a new law in Pakistan, police there might start treating them that way.  That has major implications for the future of democracy in Pakistan – and broader regional stability.
So far, the protests of Imran Khan and Tahir al Qadri—the leaders of two Pakistani political parties—have been relatively peaceful. But if tensions boil over and police are forced to crack down as justified by the newly enacted Protection of Pakistan Act, there's little legal recourse for the protestors who may be hurt or killed.
By now, you're asking, how could a law call for that? Here's how. Start in July when Pakistani President Mamnoon Hussain signed the Protection of Pakistan Act into law, granting Pakistan's security forces and judicial officials acting under the law immunity "for the acts done in good faith during the performance of their duties." That's nearly carte blanche for bad police behavior.  Add in the fact that the law is meant to "provide for protection against waging of war against Pakistan [and] the prevention of acts threatening the security of Pakistan."
Since the parties of Khan and al Qadri are calling for the prime minister to resign, the law's vagueness might allow many actions that would qualify as freedom of speech to be prosecutable and reverses the burden of proof.  The list of possible examples throws an absurdly wide net, including "crimes against computers including cyber crimes, internet offenses and other offenses related to information technology." This means that police officers can arrest a person suspected of committing these offenses without having to first obtain a warrant, essentially reversing the burden of proof. The law also allows security forces to shoot suspects on sight, as long as they have the permission of a top official.
It smells even by Pakistani standards. The law, which has a two-year mandate, violates fundamental human rights as enshrined in the International Covenant on Civil and Political Rights (ICCPR) that Pakistan ratified in 2010, according to Phelim Kline, deputy director of the Asia division at Human Rights Watch.
The law hasn't had a chilling effect just yet, as the thousands of protestors who are still gathering in Islamabad show, but how the political crisis is resolved — peacefully and diplomatically or violently and under the shroud of the new law — will affect the future of freedom of expression in the country …
To read the entire blog, click here.
Emily Schneider (LAW '13) is a Research Associate for the International Security at New America and a Research Assistant for INSCT.