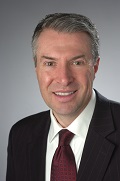 SU Maxwell School Dean James B. Steinberg is pleased to announce that INSCT Faculty Member David M. Van Slyke, holder of the Louis A. Bantle Chair in Business and Government Policy, has been appointed associate dean and chair of the Department of Public Administration and International Affairs (PAIA).
Van Slyke, a fellow of the National Academy of Public Administration, has established himself as one of the leading scholars in the field of public policy and management. He received the 2015 Distinguished Alumnus in Public Administration and Policy Award from the University at Albany, is a two-time recipient of the Maxwell School's Birkhead-Burkhead Professorship for Teaching Excellence Award (2006-2010 and 2014-2018), and earned best article awards from the Public Management Research Association (2007) and the Academy of Management (2002).
"I am delighted to have David Van Slyke, a leading figure in public administration, heading Maxwell's top-ranked Department of Public Administration and International Affairs," says Steinberg. "David's deep expertise in public-private partnerships, working with governments, business leaders, and NGOs around the world, combined with his outstanding scholarship and his award-winning teaching, makes him the perfect choice to lead the department to continued growth and success."
Throughout his career Van Slyke has also been active in the community, serving as an adviser for the US Office of Management and Budget, the Office of Federal Procurement Policy, the World Bank, and the Russian government, among many others. Additionally, he has published two books, including the award-winning Complex Contracting: Government Purchasing in the Wake of the US Coast Guard's Deepwater Program, which won the American Society for Public Administration's Section on Public Administration Research (SPAR) annual book award for public administration scholarship …
To read the whole story, click here.