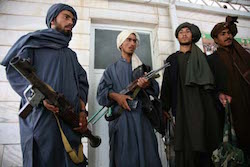 By Farhad Peikar
(Re-published from The Guardian, May 22, 2015) Reports of an official Taliban delegation's clandestine visit to Iran this week raised eyebrows in both Kabul and Tehran: why would Iran, a Shia powerhouse involved in proxy wars with several Sunni states and sectarian groups in the Middle East, host a radical Sunni militant group on its soil?
The two erstwhile foes once came to the brink of a full-blown war against each other. However, when it comes to regional politicking the two have found much in common, including their fear of the spread of the Islamic State influence in the region.
In 1998, Tehran deployed more than 70,000 forces along the Afghan border in a clear show of military might and threatened to invade Afghanistan and avenge the deaths of at least eight Iranian diplomats at the hands of Taliban in the northern city of Mazar-e-Sharif that year. Iranian generals predicted they would topple the Taliban regime within 24 hours, but the situation was defused when the United Nations interfered.
Then, when the US-led coalition forces ousted the Taliban in late 2001 for harboring Osama bin Laden, the mastermind of attacks on 11 September 2001, Iran tacitly supported the operation.
However, more than a decade later, the two archrivals seem to be willing to coexist in the face of the growing threat posed by Isis. This dovetails with another shared goal: pushing the United States and its western allies out of Afghanistan.
While Tehran may not wish to see a return of a Taliban government on its eastern border, Iranian officials would not have a problem seeing the Taliban becoming part of the current western-backed Kabul administration through a much-awaited reconciliation …
To read the full article, click here. 
Farhad Peikar (MPA/MAIR '13)—a graduate of INSCT's CAS in Security Studies program—is a former Afghanistan bureau chief for Deutsche Presse Agentur (DPA).