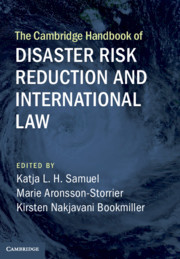 Professor Emeritus William C. Banks is among the authors included in a groundbreaking handbook for the emerging fields of disaster risk management and disaster risk reduction (DRR) law. The Cambridge Handbook of Disaster Risk Reduction and International Law (Cambridge, 2019) is edited by Katja L. H. Samuel, Marie Aronsson-Storrier, and Kirsten Nakjavani Bookmiller. Banks' chapter—"Improving Disaster Risk Mitigation: Towards a 'Multi-Hazard' Approach to Terrorism"—is co-authored with Samuel and Daphné Richemond-Barak, of the Institute for Counter-Terrorism in Herzliya, Israel.
Yet the law sector itself remains relatively under-developed, including a paucity of supporting 'DRR law' scholarship and minimal cross-sectoral engagement.
The new handbook introduces concepts of DRR, especially DRR law; highlights the critical need for broader cross-sectoral engagement on DRR issues; looks at the multi-sectoral approaches of the Sendai Framework, especially between law, science, and technology; contributes to the development of DRR related law, policy, and practice; and informs law and policy makers of the growing importance of DRR law through comparative analysis of multiple regimes.
Write the co-editors in their introduction, "The number, intensity, and impact of diverse forms of 'natural' and 'human-made' disasters are increasing. In response, the international community has shifted its primary focus away from disaster response to prevention and improved preparedness.
"The current globally agreed upon roadmap is the ambitious Sendai Framework for Disaster Risk Reduction 2015–2030, central to which is the better understanding of disaster risk management and mitigation. Sendai also urges innovative implementation, especially multi-sectoral and multi-hazard coherence.
"Yet the law sector itself remains relatively under-developed, including a paucity of supporting 'DRR law' scholarship and minimal cross-sectoral engagement. Commonly, this is attributable to limited understanding by other sectors about law's dynamic potential as a tool of disaster risk mitigation, despite the availability of many risk-related norms across a broad spectrum of legal regimes."