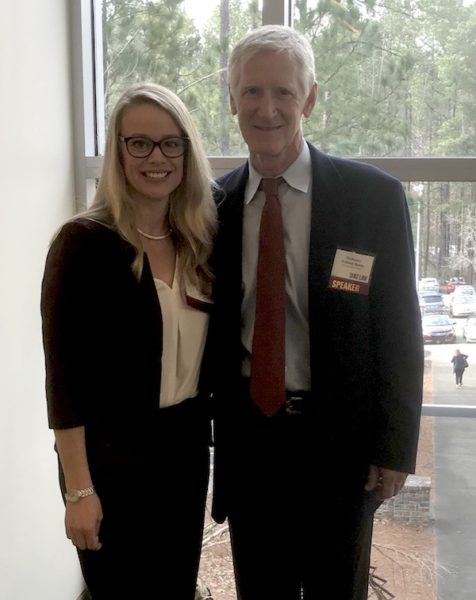 INSCT Director William C. Banks was a co-discussant on the panel "Complexity and the Law of Armed Conflict" at the 2018 Duke University Center on Law, Ethics and National Security (LENS) Conference on Feb. 22-23, 2018. Banks was joined on the panel by Rita Siemion, International Legal Counsel, Human Rights First; Brig. Gen. Ken Watkin, former Judge Advocate General, Canadian Forces; and Professor Jeremy Rabkin of George Mason Law.
INSCT alumna Erin Wirtanen (JD/MPA '98), Chief Counsel for the Center for Cyber Intelligence, CIA, was moderator of the "Complexity and Cybersecurity" panel. Amb. Nathan A. Sales, Ambassador-at-Large and Coordinator for Counterterrorism, US Department of State, and a former INSCT Faculty Member, spoke at the conference dinner at the end of the first day.
The conference—entitled Complexity and Accountability: The Future of the ICC—was sponsored by LENS, the Center for International and Comparative Law, and the International Human Rights Clinic. Other speakers included Maj. Gen. Charlie Dunlap, USAF (Ret.), LENS Executive Director; Dean Cheng of the Heritage Foundation; John Cronan, US Acting Assistant Attorney General and former Chief of the Southern District of New York's Terrorism Unit, US Department of Justice; Monika Bickert, Head of Global Policy, Facebook; and Professor Laurie Blank of Emory Law School.