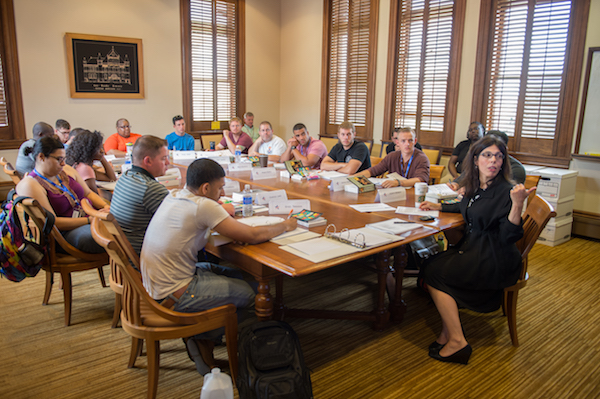 (At left) INSCT Director of Research Corri Zoli discusses Alexis de Tocqueville's classic Democracy in America with a group of military veterans at the 2016 Warrior Scholar Project "academic boot camp," held at Syracuse University from July 9-17, 2016.
"WSP recognizes the untapped talent of our professional 'all-volunteer' force."
WSP holds camps such as this one on partner campuses throughout the summer. The purpose of the program is to re-orientate college-bound veterans toward academia, by introducing foundational texts, teaching college readiness skills, addressing misperceptions about college, and unlocking the academic potential of these former warriors, many of whom will have joined the forces directly from high school.
Zoli, who is chair of WSP's Academic Advisory Board, notes that many of the more than three million US military veterans who have served in America's longest wars to date have aspired to go to college after service. "The mission of the Warrior Scholar Project is to make sure that all enlisted veterans not only achieve this goal but thrive on college campuses," she says. "There is no question that military servicemembers, including the women and men of the Gulf War and post-9/11 generation of war fighters, have much to offer America's campuses, such as unprecedented military training, diverse jobs and professions from their deployments, and a spirit of teamwork, collaboration, and dedication to the greater community."
As a scholar and social scientist, Zoli says there are three reasons why she thinks the WSP mission is so important. "Firstly, the project teaches veterans returning to school the core fundamental critical analytical skills needed for success and excellence in higher education and beyond." WSP does this by enlisting inspiring professors and mentors to spend time with veterans in "academic boot camps" on many college campuses. There, student veterans discuss the "brass tacks" of some of the great books and great ideas that animate history, and they pitch in with their own interpretations of these texts, thus making their own contribution to timeless debates. "In this way, WSP makes veterans part of the academic conversation."
"Secondly, WSP recognizes the untapped talent of our professional 'all-volunteer' force," Zoli continues, "something the military has known for years and something the American public realizes, as reflected in longstanding public polls showing the military is one of the most trusted public institutions. It's time for universities to see and leverage the talent of the all-volunteer force, and WSP helps us do that." WSP's mission, in other words, is to help veterans transition to college by tapping into and expand upon skills they learned in the military, such as discipline, motivation, persistence, and resilience. "In the process, academics and students learn a great deal more about military servicemembers and veterans."
"Thirdly, so often in our public discourse we talk about 'supporting veterans' without really thinking about what that means," Zoli notes. "Surprisingly enough, despite all of this talk of support, we know very little about the veterans in our midst. This is especially true on college campuses—with some exceptions." One of WSP's core strengths is that it helps student veterans become leaders on college campuses, leadership being a role many veterans are already quite skilled at given their military training and experiences. "In the process," Zoli concludes, "college communities are enriched by such knowledge and leadership."
For more information on the Warrior Scholar Project, visit warrior-scholar.org.