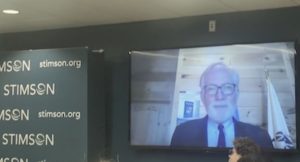 INSCT Faculty Member David M. Crane will join other distinguished international law scholars and practitioners at "Crisis in Yemen: Accountability and Reparations," an event designed to bring the world's attention to a growing humanitarian disaster in this Middle East nation.
The panel discussion takes place at The Stimson Center in Washington, DC, on June 26, 2018, from 10 a.m. to 1:30 p.m. The simulcast can be viewed here.
Sponsored by the American Society of International Law, the Stimson Center, and the Washington Foreign Law Society, the panel also features Stephen Rapp, Former US Ambassador-At-Large for War Crimes; Mark Agrast, Executive Director, American Society of International Law; and Sarah Leah Whitson, Executive Director, Middle East and North Africa Division, Human Rights Watch, among others. View the full list of panelists here.
The Yemen Civil War, which had its roots in the political upheaval of 2011-2012, has since turned into a complex conflict among a central, recognized government and its powerful Saudi-led allies, an alternative government in the country's north backed by Houthi rebels, and several terrorist groups.
Escalating in 2015, the civil war has created the world's worst humanitarian crisis. An estimated three quarters of the civilian population have been affected by the devastation from warring parties on all sides. Death, disappearances, detentions, torture, displacement and famine are ravishing the country. A cholera epidemic is being exacerbated by raids on civilian populations.
Meanwhile, critical ports for delivery of food and medicines have been blocked. Arms and deadly munitions, funded by the US and UK, have proliferated. Secret prisons established inside and outside the country are detaining countless numbers of civilians, women, children, and aid workers.
The panel of experts, led by Rapp and Crane, will assess the situation on the ground in this stage of the Yemen crisis, and propose solutions drawn from fundamental international laws and standards.