Syracuse University Institute for Security Policy and Law's New Frontiers in Science, Cyber, and Technology initiative explores the current national and international legal and policy challenges of global interconnectivity, novel technologies, cyberwarfare, and the balance of security needs and civil liberties.
Interdisciplinary projects leverage a network of experts in cybersecurity law and policy, Internet governance, information security, cryptography, systems assurance, critical infrastructure, smart grid distribution, and the economics of distributed systems.
Collaborators are drawn from several SU colleges and departments—Law, Economics, Information Studies, and Electrical Engineering and Computer Science—as well as from government and private entities, including General Electric, Infragard, JPMorgan Chase, and the US Department of Homeland Security.
Science, Cyber, & Technology Projects
In 2019, SPL received a two-year grant from the Center for Emerging Technologies (CSET) at Georgetown University to conduct research on Artificial Intelligence (AI) and national security, law, ethics, and policy.
In 2015, SPL began a collaboration with the NATO Cooperative Cyber Defence Center of Excellence (CCDCOE), based in Tallinn, Estonia. Authors of the "Tallinn Manual on International Law Applicable to Cyber Warfare," experts at CCDCOE are at the forefront of understanding the challenges of applying existing international laws and norms to the constantly evolving cyber realm. As the Tallinn Manual project continues, SPL staff, faculty, and associates have been invited to add their insights into how to reform international law and domestic law in the digital age.
At the core of this research is the premise that the goal of securing cyberspace must be grounded in an empirical portrait of actual cyber conflict behavior and security norms. The CyberINS online database draws upon published vulnerability data and processes it through a set of scoring rules to identify cyber incidents with potential national security implications. As far as SPL can determine, CyberINS is the only dynamic cyber incidents tool that uses open source data, adds research-driven analytical determinations to existing cyber incident reporting, and makes empirical assessments about cyber events in terms of their national significance.
SPL is closely tracking the debate on the domestic use of Unmanned Aerial Vehicles (also called Unmanned Aerial Systems, or drones). The Domesticating the Drone website serves as a resource for those following—and influencing—US policymaking related to drones. It includes updates on federal, state, and local laws; think tank and government reports; and news and commentary related to the implications (to privacy and more) of aerial surveillance and other work being done by drones in US airspace.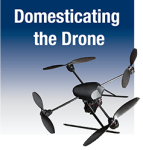 preSAGE applies four integrated perspectives—technology, security, economics, and law—to solve emerging problems of security, privacy, integrity, accountability, and functionality for critical infrastructure, the smart grid, and the "Internet of Things." Central to the preSAGE project is a risk-assessment modality to build tools to design and test systems and protocols that will allow secure, reliable joint control of smart appliances and vehicles. SPL has teamed with critical parties from across SU's campus on this issue: Corporate Relations and Technical Alliances and the departments of Economics and Electrical Engineering and Computer Science.

SPL offers both traditional and distance education coursework on emerging issues in cybersecurity law and policy. For federal officials, SPL also works with the highly-regarded Syracuse University School of Information Studies as participants in the Department of Homeland Security Career Development Fellows Program.
Cybersecurity Events
SPL's cybersecurity symposia and speaker series address diverse and pressing law, policy, and technology topics in contemporary cybersecurity, including systems assurance, accountability mechanisms, trusted identities, anonymity in cyberspace, internet governance, and cyber warfare.
Archived Cyber Events