In 2019, SPL received a two-year grant from the Center for Emerging Technologies (CSET) at Georgetown University to conduct research on Artificial Intelligence (AI) and national security, law, ethics, and policy.
This research will seek solutions to national security risks raised by the emergence of AI while balancing the many legal and ethical concerns raised by its misapplication. IPL faculty—including the SPL Director the Hon. James E. Baker, Deputy Direct Robert Murrett, Professor Laurie Hobart, and Research Fellow Matthew Mittelsteadt—are working in collaboration to publish research and white papers to help drive the conversation on AI national security policy.
Products
Book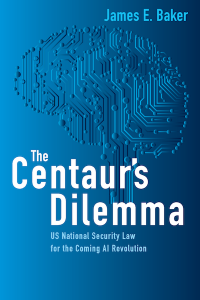 The Centaur's Dilemma—National Security Law for the Coming AI Revolution
The Hon. James E. Baker
250 Pages
Brookings Institution Press
Publishing date: December 2020
Paperback ISBN: 9780815737995
The increasing use of artificial intelligence poses challenges and opportunities for nearly all aspects of society, including the military and other elements of the national security establishment. This book addresses how national security law can and should be applied to artificial intelligence, which enables a wide range of decisions and actions not contemplated by current law. Written in plain English, The Centaur's Dilemma will help guide policymakers, lawyers, and technology experts as they deal with the many legal questions that will arise when using artificial intelligence to plan and carry out the actions required for the nation's defense.
Symposium
National Security Law and the Coming AI Revolution
On Oct. 28, 2020, Syracuse University Institute for Security Policy and Law and the Center for Security and Emerging Technology at Georgetown University's Walsh School of Foreign Service presented a one-day virtual symposium on "National Security Law and the Coming AI Revolution," including panels on:
AI & the Law of Armed Conflict
AI & National Security Ethics: Bias, Data, & Principles
AI & National Security Decision-Making
Visit the Symposium webpage
Report
Mechanisms to Ensure AI Arms Control Compliance (February 2021)
By Matthew Mittelsteadt, SPL AI Policy Fellow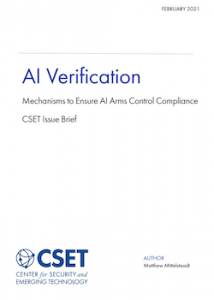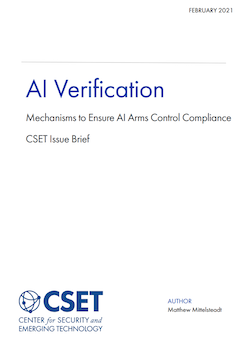 The rapid integration of artificial intelligence into military systems raises critical questions of ethics, design and safety. While many states and organizations have called for some form of "AI arms control," few have discussed the technical details of verifying countries' compliance with these regulations. This brief offers a starting point, defining the goals of "AI verification" and proposing several mechanisms to support arms inspections and continuous verification.
The report defines "AI Verification" as the process of determining whether countries' AI and AI systems comply with treaty obligations. "AI Verification Mechanisms" are tools that ensure regulatory compliance by discouraging or detecting the illicit use of AI by a system or illicit AI control over a system.
Despite the importance of AI verification, few practical verification mechanisms have been proposed to support most regulation in consideration. Without proper verification mechanisms, AI arms control will languish. The report seeks to jumpstart the regulatory conversation by proposing mechanisms of AI verification to support AI arms control.