Syracuse University Institute for Security Policy and Law's projects on Security in the Middle East and Islam address topics fundamental to the rule of law, conflict resolution, and postconflict reconstruction in this region, including the application of international humanitarian law (IHL), international human rights law (IHRL), and postconflict justice.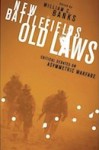 One of SPL's signature projects, New Battlefields/Old Laws (NBOL) began with a 2007 symposium to commemorate the 100th anniversary of The Hague Convention of 1907. Held at the Omni Shoreham Hotel in Washington, DC, this conference brought together an international team of scholars, government officials, and human rights experts, moderated by NPR's Robert Siegel and Tom Ricks of The Washington Post. The project has since grown into a series of interdisciplinary workshops and publications that reexamine the application of centuries-old customs and laws of armed conflict in the age of asymmetric warfare. This project has produced two books that closely examine international humanitarian law in the 21st century: New Battlefields/Old Laws: Critical Debates from the Hague Convention to Asymmetric Warfare (Columbia UP, 2011) and Counterinsurgency Law: New Directions in Asymmetric Warfare (Oxford UP, 2012).
With support from the Andrew W. Mellon Foundation and the SU Humanities Center, the Islam and International Humanitarian Law (IHL) project examines from multiple perspectives the role of Islam and Shari'a plays in IHL and how these perspectives contribute to the regulation of international conflicts, civil wars, asymmetric warfare, and human rights.
Most of the world's humanitarian aid goes to Muslim-majority communities, whether in the form of security support, development aid, or NGO assistance. But policymakers and the public at large do not fully understand conflict dynamics in the Muslim world. Experts, likewise, have little knowledge about how Muslim governments use international legal norms to navigate conflict and postconflict challenges. To better inform and help shape US security and foreign policy, this project uses social science methods to analyze modern Muslim-majority state conflict behavior, to examine these states' compliance with international humanitarian law (IHL), and to quantify the frequency of IHL language versus Shari'a versus in their constitutions.
SPL has partnered with the US Institute of Peace and the International Institute of Higher Studies in Criminal Sciences (ISISC) to examine postconflict challenges in the Middle East and the role of international norms and mechanisms to meet those challenges, including the conformity of Shari'a law to internationally recognized forms of postconflict justice, such as prosecutions, truth commissions, lustration, memorialization, and legal reform. In early 2014, the Brookings' Project on US Relations with the Islamic World, housed within the Saban Center for Middle East Policy, selected SPL's white paper "Justice in Postconflict Settings: Islamic Law and Muslim Communities as Stakeholders in Successful Transition" as a working group topic at its prestigious US-Islamic World Forum in Doha, Qatar, June 9 to 11, 2014.
SPL's Program on Security in the Middle East is a unique graduate program that facilitates student engagement with scholars, renowned experts, and practitioners.
As part of SPL's Program on Security in the Middle East, SPL hosts renowned scholars and experts to discuss the pressing challenges and complexities of security in the Middle East. Carol Becker speakers present to the SU community and meet with SPL students to discuss and debate security challenges facing the region.
Started at Syracuse University College of Law in 2011, the Syrian Accountability Project (SAP) is a cooperative effort between activists, non-governmental organizations, students, and other interested parties to document war crimes and crimes against humanity in the context of the Syrian Crisis.