A joint project of INSCT and the Moynihan Institute of Global Affairs, this research program focuses on a new approach to international security analysis, scanning the world for "Global Black Spots," defined as physical areas that are outside of effective governmental control.
Visit the Black Spots webpageButton
Background
Black Spots are dominated by alternative, mostly illicit, authority structures—criminals, warlords, terrorist organizations—and are capable of breeding and exporting insecurity (e.g., illicit drugs, conventional weapons, weapons of mass destruction, terrorist operatives, illicit financial flows, strategic/sensitive know-how) to faraway locations.
This research initiative detects, maps, and analyzes such Black Spots, seeking to understand the ways in which they export insecurity. Black Spots constitute a considerable security challenge because they are largely invisible to the outside world. This project discovers Black Spots through the triangulation of data regarding anomalous events and transfers in particular regions of the globe.
Consider these examples:
The Federally Administered Tribal Areas that are formally part of Pakistan but are currently believed to be home to the leadership of al-Qaeda, elements of the Taliban, and various insurgent groups.
South Ossetia, formally a part of the state of Georgia and the place where the Georgians and Russians have clashed militarily.
Closer to home, the St. Regis/Akwesasne Mohawk Reservation that crosses the border between the New York and Quebec is another example of an area outside of effective government control of either country that facilitates smuggling of illicit products and people through the border without being detected.
To date, this research has identified and mapped more 80 Black Spots around the world and is assessing the types of interactions taking place within these areas as well as the various forms of insecurity that they are exporting and their destinations.
Research suggests that Black Spots may serve as nodes for a global network of transnational criminals and terrorists. We believe that transnational non-state actors use Black Spots as locations where they can operate undisturbed and out of sight of international law enforcement, intelligence, and security agencies. What they transfer in, out, and between Black Spots are insecurity flows—defined as movements of assets, people, services, or sensitive know-how in pursuit of illicit criminal or political gain, and with intention of evading law enforcement, intelligence, and related national and international agencies.
Project Goals
This initiative seeks to develop an early warning system for alerting governments and international organizations of possible dangers, and to provide guidance on how Black Spots may be managed to minimize the harm they cause. The ability to pinpoint and monitor Black Spots on an ongoing basis offers the possibility of tracking the movement of criminals and terrorists, their financial assets and illegal weapons, and their skills and expertise. Such a capability is critical to intelligence gathering and necessary for threat interception and the prevention of the escalation of insecurity.
Related Events
"National Strategy Forum Lecture on Black Spots: Identifying Growth Areas for Terrorist Cells and How to Combat Them"
Nov. 11, 2010 | Chicago, IL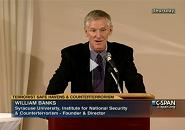 Professor William C. Banks delivered a lecture on terrorist organizations and cells in ungoverned spaces and failed states, areas called "Black Spots" or sometimes "Black Holes" by policymakers. The event was sponsored by the National Strategy Forum.
Terrorist organizations and cells thrive in ungoverned spaces and failed states — areas called "black spots" or "black holes" by policy analysts and policymakers. In addition to the well-publicized "black spots" of Somalia and Yemen, are there other areas that should draw U.S. concern? What are potential new "black spots" around the world? Can anything be done to prevent terrorist organizations from taking advantage of failed states and ungoverned spaces?
Since 1987, when the Federation of American Scientists asked him to provide a legal perspective on first use of nuclear weapons, Professor William Banks has helped set the parameters for the emerging field of national security law. He is recognized internationally for his expertise in the field and lectures extensively throughout the United States. Professor Banks' current research interests include domestic and international terrorism, emergency powers, war powers, emergency preparedness and response, civil/military relations, and appropriations powers. He founded the Institute for National Security and Counterterrorism at Syracuse University in 2003.
Watch the C-SPAN Black Spots video
---
Berkshire Community College Forum on Mapping Global Insecurity Research
Berkshire Community College (Pittsfield, Mass.) | Nov. 4, 2010
A forum presentation by Bartosz Hieronim Stanislawski, "Global Black Spots/Mapping Global Insecurity" has redrawn maps of the world, attempting to look through the eyes of criminals/terrorists, based on their perceptions of areas of operations, turfs or "black spots." Law-abiding citizens recognize international frontiers and, mostly, respect them but global criminals and terrorists see international frontiers as lines of opportunity having significant legal or price differentials. They see them as the boundaries of law enforcement and intelligence agencies' zones of influence, as aerial markers of safe havens. Global criminals and terrorists use international frontiers to run and hide behind out of the reach of justice, to regroup, and to conduct their operations further.
The mission of the GBS-MGI Program is to gather data on and conduct analysis of areas that are perceived to be critical nodes in underworld webs. By looking at them and tracking insecurity flows that run through them, it is possible to better understand the global underworld, its interactions, actors, and—most importantly—insecurity that may be generated and exported to other locations. As such, the GBS-MGI Program is evolving toward supporting early warning systems.
Stanisławski, a graduate of BCC's Peace and World Order Studies Concentration, is a research fellow and the director of the Global Black Spots program, which is a joint endeavor of the SU Moynihan Institute of Global Affairs and INSCT.
In 2009, former SU Chancellor and President Nancy Cantor awarded INSCT a Chancellor's Leadership Award in recognition and support of this interdisciplinary work with the Moynihan Institute of Global Affairs.