Syracuse University Institute for Security Policy and Law has partnered with the United States Institute of Peace and the International Institute of Higher Studies in Criminal Sciences (ISISC) to examine postconflict challenges in the Middle East and the role of international norms and mechanisms to meet those challenges.
These challenges include the conformity of Shari'a law to internationally recognized forms of postconflict justice, such as prosecutions, truth commissions, lustration, memorialization, and legal reform.
Introduction
In early 2014, the Brookings' Project on US Relations with the Islamic World, housed within the Saban Center for Middle East Policy, selected ISPL's white paper "Justice in Postconflict Settings: Islamic Law and Muslim Communities as Stakeholders in Successful Transition" as a working group topic at its prestigious US-Islamic World Forum in Doha, Qatar, June 9 to 11, 2014.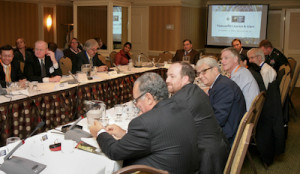 While there has been a significant expansion internationally in the use of postconflict justice modalities—and significant writing and debate on the topic as nations struggle to address the aftermath of atrocities—there has been a dearth of thinking exploring Islamic perspectives. Nevertheless, the Shari'a contains several sources of proscriptive and prescriptive norms applicable to Muslims in times of war and peace that would invite, if not require, postconflict justice.
Under the aegis of this project—and since the April 2009 Islam and International Humanitarian Law Workshop at Syracuse University—USIP, ISISC, and ISPL have been identifying and assessing normative provisions in the Shari'a that require, permit, or bar the use of postconflict justice modalities and/or which support other approaches to the problem.
Project Directors
William C. Banks, Founding Director, ISPL
M. Cherif Bassiouni, Distinguished Research Professor of Law, DePaul College of Law and President Emeritus, International Human Rights Law Institute (Deceased)
Scott Worden, Senior Rule of Law Adviser, Rule of Law Center of Innovation, United States Institute of Peace (USIP)
Corri Zoli, Director of Research/Research Assistant Professor, ISPL
Publications
| | |
| --- | --- |
| | Worden, S., Azar, S., Parker, W., & Ross, S. "Analyzing Post-Conflict Justice and Islamic Law." USIP Peace Brief, 87 (2011). |
| | Zoli, C., Azar, S., & Ross, S. Patterns of Conduct: Libyan Regime Support for and Involvement in Acts of Terrorism. Prepared for M. Cherif Bassiouni, Chair, UNHRC Commission of Inquiry into Human Rights Violations in Libya. |
| | Abdenour, C., Schneider, E., & Schuster, C. "Conflict Behavior in Muslim States." |
Postconflict Justice & Islam Workshop 2010
Co-Sponsors