Syracuse University Institute for Security Policy and Law's deep and broad capabilities in national and international security are founded on the expertise and experience of academic experts and practitioners from throughout the security community.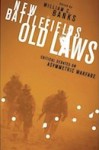 One of SPL's signature projects, New Battlefields/Old Laws (NBOL) began with a 2007 symposium to commemorate the 100th anniversary of The Hague Convention of 1907. Held at the Omni Shoreham Hotel in Washington, DC, this conference brought together an international team of scholars, government officials, and human rights experts, moderated by NPR's Robert Siegel and Tom Ricks of The Washington Post.
The project has since grown into a series of interdisciplinary workshops and publications that reexamine the application of centuries-old customs and laws of armed conflict in the age of asymmetric warfare. This project has produced two books that closely examine international humanitarian law in the 21st century: New Battlefields/Old Laws: Critical Debates from the Hague Convention to Asymmetric Warfare (Columbia UP, 2011) and Counterinsurgency Law: New Directions in Asymmetric Warfare (Oxford UP, 2012).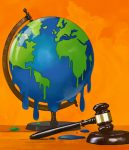 SPL's research on climate change and national security draws on the work of Professor Mark Nevitt, whose scholarship has appeared in the Journal of National Security Law and Policy, Washington University Law Review, Boston College Law Review, Georgia Law Review, Cardozo Law Review, Harvard Environmental Law Review, and elsewhere.
In order to support policymakers and practitioners engaged in security governance and human security efforts in conflict and postconflict nations, SPL is examining the status of Rule of Law initiatives and asking how and why certain methods, approaches, and means succeed or fail; what outcomes (positive, negative, or neutral) have been achieved; and whether best practices and policy prescriptions can be identified and communicated.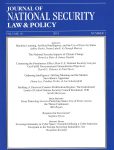 SPL co-publishes JNSLP—the world's only peer-reviewed journal devoted exclusively to security law and policy—with Georgetown Law. The journal's mission is to publish rigorous analysis about the greatest security challenges facing the nation and to contribute to the formulation of fair, credible solutions that balance the need for both liberty and security.
Peer reviewers include distinguished members of the journal's editorial board, as well as law professors and members of the military, intelligence, law enforcement, and civil liberties communities. The editor-in-chief is Professor of Law Emeritus and SPL Founding Director William C. Banks.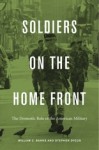 When crisis requires American troops to deploy on American soil, the country depends on a rich and evolving body of law to establish clear lines of authority, safeguard civil liberties, and protect its democratic institutions and traditions.
Since the attacks of 9/11, the governing law has changed rapidly even as domestic threats—from terror attacks, extreme weather, and pandemics—mount. Soldiers on the Home Front is the first book to systematically analyze the domestic role of the military as it is shaped by law, surveying America's history of judicial decisions, constitutional provisions, statutes, regulations, military orders, and martial law to ask what we must learn and do before the next crisis.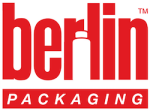 In 2010, the Maxwell School of Citizenship and Public Affairs received an endowment gift to fund faculty and graduate student research relating to issues of national security. The Andrew Berlin Family National Security Research Fund, established in honor of Professor David H. Bennett, operates through SPL, a collaboration between SU Maxwell School and the SU College of Law.
In May 2016, continuing its collaboration with the UN Counter-Terrorism Committee Executive Directorate, SPL was invited to join The Prevention Project, directed by former US Department of State counterterrorism official Eric Rosand through the Global Center on Cooperative Security.
The project aims to support UN member states' efforts to deal holistically and constructively with citizens who travel to fight with extremist and terrorist organizations, by developing effective community-led and, where appropriate, legal and administrative rehabilitation and reintegration programs.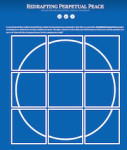 In 1795 Immanuel Kant outlined six preliminary conditions for peace between states in his famous essay Zum ewigen Frieden: Ein philosophischer Entwurf (Perpetual Peace: A Philosophical Sketch). Redrafting Perpetual Peace—an initiative generated by academics and foundation leaders to re-frame Perpetual Peace for the contemporary world. This page gathers the contributions of Syracuse University Institute for Security Policy and Law Founding Director William C. Banks and Affiliated Faculty Member Louis Kriesberg.